After a successful Come and Try It it is great to have a few interesting gigs to look forward to.
Marlee Morris is performing at Balingup for the Balingup Mini-Eval Festival – see BMC for more information. The festival is on Saturday 28th of August – see Event for more details.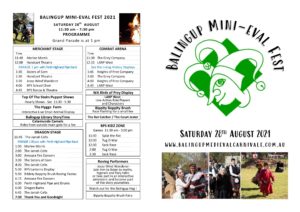 We have been invited by the Fair Maids of Perth to dance with them and the Perth Morris Men at Cottesloe on the 4th of September. See FMOP for more details.
Three weeks after this event, Marlee Morris will be part of the Perth Morris Men's annual (Covid permitting) "Down South Tour" where all the Perth Morris sides dance around the Yallingup/Dunsborough area.
Following that, the next known gig is the Rosalie Fete on the 20th of November – see Rosalie for more details.